There are a whole lot of interior design skills that will become easier and faster with more and more practice. I mean I'm a big advocate of consistent practice with all the CAD programs. It will almost automatically make you faster and more effective. One aspect of a designer's job that's really difficult to make faster though is the research. It's difficult to communicate to non-designers just how much research goes into each project, but alas that must be our burden to carry…
Even if it doesn't make the research process faster, there are several digital tools that can make the research process more organized and faster to reference when it comes to making design decisions later. Here are 5 of my favorites. Some you've heard of, others might be new.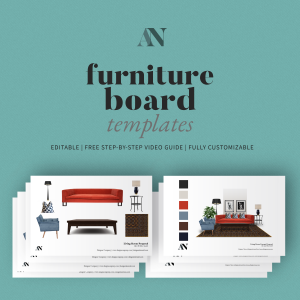 want some templates to work faster?
How to use Pinterest to organize your research like a pro
It should come as no surprise that Pinterest is on this list. The platform was the vision of some very creative people, including Evan Sharpe who trained as an architect. As a result, it was built to house and organise the kind of research that used to be recorded on pin-up boards in offices and studios. Obviously, you can use it to pin idea for personal things like recipes and clothes, but don't scoff at using this powerful platform seriously and systematically for your interior design projects.
Here are a couple of key tips to use Pinterest as a professional:
Have a separate account from your personal one.
If you use Pinterest for personal projects, don't use the same account for your client projects. It just muddies the waters and also it's a recipe for distraction. Have a separate account that you can use just for you professional projects.
If you have a Pinterest for Business account you use for Pinterest marketing, I'd recommend keeping that account separate from you project project research account too.
Because so many interior designers are not only designers but also business owners, marketers, team managers, etc. Mixing the account you use for marketing with the one for project research is another recipe for distraction. It can be too easy to switch to your marketing hat to push your business.
Instead set up yourself a specific account just for your clients projects research. This gives you the boundaries to focus on client work when you need to.
Keep your boards private.
Research is billable work so don't give it away for free. Yes, it does take someone talented to distill all that hard work into a beautiful design but don't even give those talented people the opportunity. These boards are only for you and your colleagues to see.
If some of the things you pin would work well for the Pinterest marketing side of things feel free to have a dedicated shared board that you use to share the content with your marketing account. Don't worry about pinning it for marketing though until your marketing hat is on; you still need to focus on the research.
Use project numbers in your board titles.
Just like using project numbers in you file names (if you aren't using them, please do!) using project numbers in your board titles will ensure you can easily identify the relevant project. Do keep in mind that you may have more than one board for a project. Even if that's the case having a project number at the beginning of the title will still help you identify which boards go together.
Have one board to collaborate with your client and one or more boards for your own research.
So many designers are using Pinterest boards with their clients. This is a wonderful technique because your clients are likely already pinning ideas, so they might as well share those pins with you. However, to do this effectively you don't want you client to see every single product or inspiration you've found. That will overwhelm them and potentially make your client lead the project down a path it doesn't need to go. Instead use a specific client board with them. You can use sections within the board if you want to organise by space or organise by your clients ideas and your ideas.
Be systematic with your research boards and use sections.
It's a good idea to have a "template" of sorts for your project types where you have a skeleton of boards and sections to flesh out in the research. You might have a residential project board structure, an office project board structure, etc. If you work in a few typologies, think about what's typically on your research list. Think about types of products, types of inspiration, etc. That you typically need to research for those projects: if you spend a half hour or so no outline the typical board structure of a generic project it could save you hours down the line.
Every board should have a section for top ideas or choices.
Frankly you might have 100s of pinned ideas on certain boards. When you start to make decisions from this research, it will be important that you can distinguish those ideas from the ones that didn't make the cut. Having just a section where you can drag and drop the top pins will help make these choices visually clear.
Use the Pinterest Chrome Extension.
First of all, if you aren't already using Google Chrome for you internet browser make a point to install it as soon as you can. Including the Pinterest chrome extension, this browser has a ton of key features that help make your internet use more efficient. (Firefox isn't a bad alternative, but to help you work efficiently, I would avoid using Internet Explorer, Edge, or even Safari).
Now back to the Pinterest extension. When you install the extension a tiny Pinterest P will appear in the top right corner of your browser. Also, all the images on the websites you look at will have tiny Pinterest Ps, too. Basically this enables you to pin anything you want without even having to go to Pinterest. This way you don't get sucked into the distracting world of Pinterest but can still easily pin items you're researching. You'll connect your Pinterest account to the extension so all of your organised boards you've set up will be there on the list ready for you to pin to. This is also great for when you stumble across an idea that wouldn't quite work for the project you're researching but would be great for another client. You can simply pin it to the other projects board and leave it there until it's time to work on that project. Suddenly you won't lose the idea in the mix of the other project nor will you have to jump tasks and distract yourself from the project you're researching. Just pin it. It will be waiting for you in the board when you're ready.
Now these are just a few tips on how to use Pinterest for project research like a pro. Let me know if you're using Pinterest for projects. Do you have any top tips to add?