Whenever you're working on creating drawings for a project, the presentation of these drawings inevitably requires a title block. The mark between a professional's and amateur's drawings is usually the professionalism of this title block. There are few key things to keep in mind when adding a title block to your drawings which is what this post is all about.
First of all, likely there are 3 types of title blocks you need in presenting your designs.
Concept or Schematic Title Block
This title block is for those initial presentation documents. When you're showing a client a mood board, a furniture board, etc., you still need to present certain information to help professionalize these earlier presentations.
Developed Design Title Block
This title block is for those later presentation documents. When you've made more specific design decisions, having a more detailed title block will help you record more detailed information to inform the presentation.
Technical Drawings Title Block
When your design is in its final stages, your drawings will be of a more technical nature. These are the drawings you give builders, contractors, cabinet makers, joiners, etc. Therefore, having the technical drawing title block to communicate more of this information can be really helpful not only to you but also to your various trades.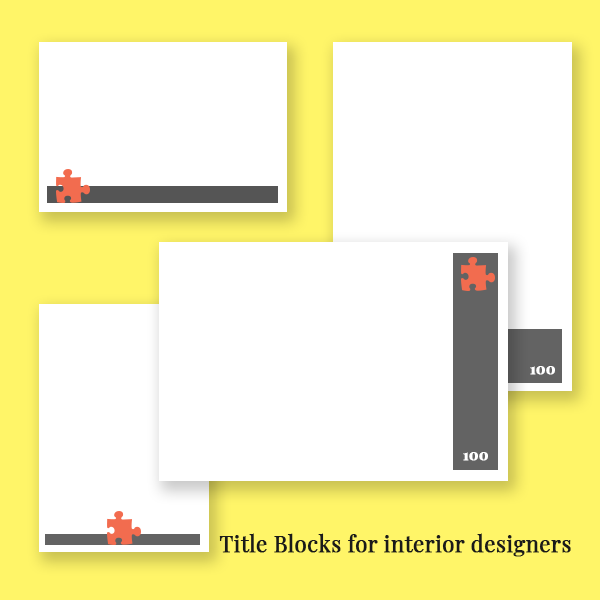 Anatomy of a title block
Key information needs to be on the right-hand or bottom side. The reason for this is binding. You don't want some important information to get hidden by the binding of your drawing package.
The orientation and size of the title blocks needs to be consistent throughout your presentation, but you can certainly experiment with the orientation and size that works best for you. In most cases, a landscape (horizontally) oriented title block will serve you best as it's the most often used. However, you may find that a portrait (vertically) oriented title block will serve you best depending on the style of the presentation.
For your concept title blocks, you might only need a small portion of the page to devote to title block information. For developed design packages and technical drawing packages, a larger section of the sheet will be needed to show the relevant information.
Components of a title block
Branding and Identity
Obviously, including your logo and your name as a designer is important. This not only help professionalize your work, but it also ensures you receive credit when credit is due. If it's your design but the drawing was made by an assistant, you will likely want to include their name as well.
Your Logo (all versions)
Designed by: Your name (all versions)
Drawn by: Your name or an assistant (developed design and technical drawings)
Dates
Dates are another key component of your title block. Including the date on the title block ensures there's a record of when the drawings, presentation, design was made. This is important to include as it impacts revisions and project schedules. Having a record protects yourself from any misunderstandings.
General date: the date of the presentation of a conceptual package presentation
Drawing issue dates: really important for developed design and technical drawing packages
Revision dates and revision numbers: include these when various iterations are being submitted to ensure there's a record of the sequence of revisions to your design
want some templates to work faster?
Project Information
Of course, including project information will be necessary too. You need to make sure your drawings are easily identified to their relevant project.
Client: it's usually a good idea to always include the client name on your title blocks even your concept packages
Project name
Project address: I would generally include the address more on the developed design packages and technical design packages
Project number: I would suggest always including this in your file names, but it might only be appropriate to include it on your technical drawing packages
Drawing information
Is it a floor plan, furniture layout, elevation drawings? If there's a broad description for the drawings that are on that sheet, including that in the title block.
Drawing titles
Scales when relevant
Sheet information
In my opinion, the sheet information is one of the most crucial pieces of information on your title block. This helps you organise and keep track of all the drawings and make the package easy to understand. Making it easy for a client or a builder to find information in a drawing package will definitely make the package more effective.
Sheet number
Sheet prefix
Lines and Graphic Elements
Title blocks can always have certain graphic elements. It's a good idea to keep these functional and relatively minimal as it's most important that the information on the sheet is clear.
Border lines consider using a border line to keep the drawing information very distinct on the sheet
Additional information
Title blocks certainly give you the opportunity to share additional information in a formalised way.
Legends – if you're using symbols in your drawings, your title block may give you the space to include a legend to define each of these symbols.
Keys – if you're keying items like furniture or fixtures, consider including the key list in an area in your title block.
Notes – notes can be an incredibly important inclusion in terms of legality and liability. For example, you may need a note to clarify that the drawings are not intended for construction, or you may wish to have a note regarding copyright. You'll need to double-check the need for these types of notes depending on the design, your role, your responsibilities, etc.
Hope that offers some clarity regarding title blocks for interior designers.
What other key elements do you consider for your title blocks?
This is an affiliate link, meaning I earn an affiliate commission if you decide to subscribe. However, I recommend AutoCAD no matter what. 🙂