Hey there! Thanks so much for purchasing a CV/Resume and Letterhead template from the shop! Find this page by mistake? This guide refers to the CV/Resume and Letterhead templates available in the shop here. 
When you're out there jobhunting, your resume is pretty much that first impression. These templates are designed to be a clean and simple framework for you to build your own polished and professional resume.
Each template requires that you download the fonts ahead of editing the template in InDesign. For details about which fonts your template uses, see the PDF guide.  
These templates also utilise the custom Audrey Noakes Symbols font file, which is included in the template .zip file. For details on how to install a font, see this page from Adobe.
To use these symbols, the following letters will create the following shapes, symbols, and icons.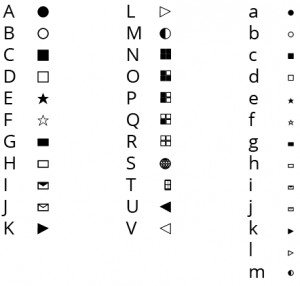 Now for the detailed guidance on how to edit the template:
Of course, if you have any questions about how to use the template, please visit my templates support page, here. There, you'll find a quick form to fill out where I can understand the issues you're facing, and I'll do my best to get back to you quickly.
If you have any feedback for this template, I'd love to hear from you! For feedback and/or reviews, please visit this page:
Again, thanks so much for purchasing this template! A lot of love went into creating this template as my biggest hope is to help designers in working more efficiently and professionally with templates and digital skills.